Building the foundations for the future in the local community
The Marches Academy Trust and Market Drayton Town Council are delighted to announce a new partnership.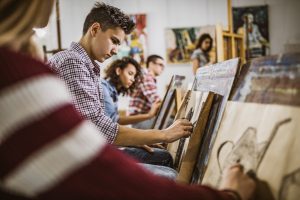 The Marches Academy Trust will be supporting the Zone Community Project, a lottery funded programme run at the Zone Community building and helping to increase the activity programmes being run.
The additional activities will complement those that have already been run at the Zone. The facility will provide youth club provision, sports events, coffee mornings, adult workshops along with many more to engage people in the area, they are aimed at providing a provision for everyone in the community from 0-100.  These activities will be delivered by a number of organisations that include The Marches Academy Trust, North Shropshire College, The Zone Community Group and many more.
Carla Whelan, Executive Director of Education at The Marches Academy Trust says "The Trust has continued to make positive changes and we are excited to partner with the National Lottery Fund and the Market Drayton Town Council to provide an engaging space for all ages within our community.  This will help our community enjoy a wealth of enriching extra-curricular activities from team sports to yoga and cookery in our superb wraparound care so now this can be extended to other local people and support families during school holidays."
Councillor Roy Aldcroft, Mayor of Market Drayton Town Council says "We are very pleased that the Marches Academy Trust has joined with us to promote and develop the activities at the Zone Community Centre.  We are sure that working together we can create some exciting educational and recreational activities for people of all ages in the Market Drayton area.  The partnership will encourage a greater range of activities and engage with a far wider group of organisations to achieve its aims within the National Lottery objectives".
To find out any further information, please email community@mmat.co.uk
Posted by marchesadmin on 10th March 2022, under Longlands
---
Previous Post:
Pupils rocked out with Rocktopus!!
Next Post:
Parenting Helpline