Our Nursery
Our Nursery caters for children from 2 years old and is led by the Early Years Teacher and SENCo, Mrs. Williams.
Mrs. Williams is the Key Person the Saplings class and Mrs. Bates is the Key Person for the Acorns class. We are also supported by our Early Years Teaching Assistants Miss Dutton, Ms. Matthews and Mrs. Sadler.
We provide a safe and stimulating, multi-sensory learning environment to enable children to develop their skills and knowledge in all areas. We value play and learning opportunities initiated by the children, which enable us to build on what the children, know and can do. The children participate in activities that allow them to play and explore, to be active learners, to be creative and to think critically.
Lots of our time is spent outside in our 'Wild Wood', visiting our social farm or playing in our outdoor classroom. We are lucky to be able to use all the school facilities including using the large playing field and playground to 'let off steam', run and climb and explore the wider environment.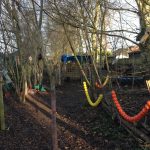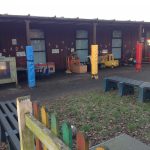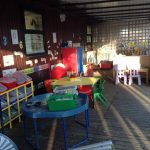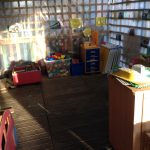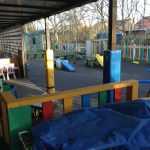 Each child is an individual and deserves to reach their fullest potential. We enjoy helping them to progress, achieve, and discover their given talents. We are inclusive, respectful and work hard to do our very best. Through our school ethos of achievement through caring we develop into kind, caring, responsible young people.
Whilst our engaging curriculum and environments encourage learning and independence, we have a flexible routine where we enjoy learning through play. We experience a mixture of adult led and free flow child-initiated sessions. The daily routine includes, talk time, phase 1 phonics, early maths, snack time, story and singing times and many more spontaneous activities.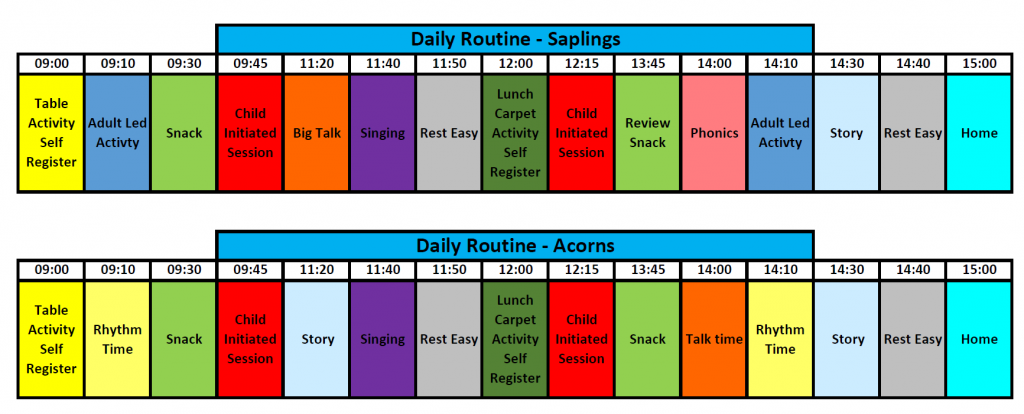 As the children progress from Acorns into Saplings, there is more emphasis on being school ready and the adult led activities become more frequent and for longer periods of time to enable them to be prepared for the expectations of a busy reception class.
Snack and lunch times
The children sit together and enjoy a cup of milk or water and a healthy snack of fruit or vegetables. This is an opportunity to talk together about our experiences, fun play activities that we have enjoyed and speak about any interests that we have. We learn to try new and unfamiliar food and make choices about what to eat.
At lunch time again, we sit together and can enjoy a healthy cooked meal from the school (Saplings go across to the school hall for lunch in the summer term to prepare them for school) or parents can provide a healthy packed lunch for their child to eat.
The Indoor and Outdoor Learning Environment
The learning environment in the Nursery setting reflects the need for physical space in children of this age. It is arranged to meet the needs of individuals, groups and the curriculum. Resources are of good quality and quantity. Additional resources are provided for pupils to choose resources independently and to engage in extended periods of play. They also can choose whether they would like to play inside or outside as we run free flow child-initiated sessions. The 'Wild Wood' and social farm area further enhances the outdoor learning opportunities, encompassing all areas of the curriculum.
Play and Creativity
We consider that play is the means through which children make sense of the world, exploring and developing their learning experiences. We believe that young children do not distinguish between 'work' and 'play' and that play provides opportunities for children to think creatively, practise ideas, communicate with others and understand the need for rules. Storytelling, drama and music, creative activities and independent learning are areas we particularly value.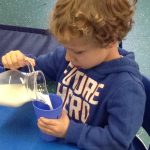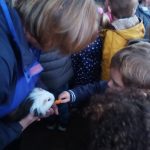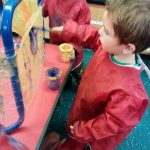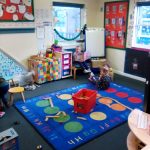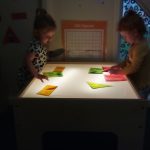 There are three prime areas of the EYFS
Communication and Language
Personal, Social and Emotional Development
Physical Development
And four specific areas
Literacy
Mathematics
Understanding the World
Expressive Arts and Design
Communication and Language
Children are actively encouraged to talk about their activities and learning and to listen to each other as well as staff. We ensure that our language models good, clear sentence structures and includes interesting and topic related vocabulary to enrich the children's language opportunities. We provide opportunities for discussions on a one-to-one, small group of larger group level to promote confidence and the conventions of conversations. We use Makaton sign language throughout our sessions to support all children that need additional methods of communication.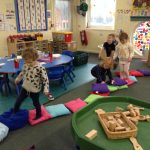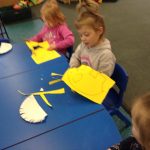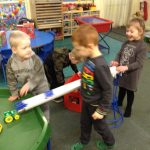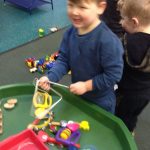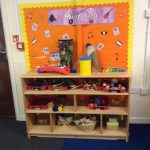 Personal, Social and Emotional Development
This occurs naturally across the year and underpins the teaching and learning that takes place in the Early Years Setting. The interaction and intervention by staff are tailored to the needs of the children in the setting, whether that is individually or as a whole group, dependent on the activity or interaction. Early Years staff consider that the physical and emotional needs of children need addressing if they are to learn effectively. Staff believe that learning is maximised in a low stress, but appropriately challenging environment. The aim is to develop children's emotional literacy and self-esteem by exploring emotions through stories, role-play and games. In the Early Years, fostering positive partnerships with parents is particularly important in order to achieve these aims. We have an open door policy and value the experiences that our families have together.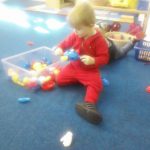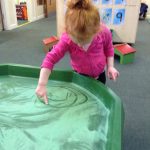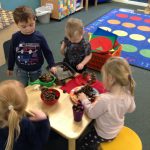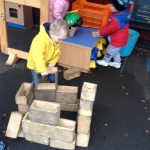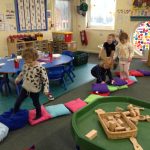 Physical Development
There are opportunities for the children to develop both their gross and fine motor skills during every session. They love climbing on the climbing frame and riding the trikes and coupe cars and mark-making, threading and scissor skill activities. Children are encouraged to manage their own personal hygiene and safety with the level of support appropriate to their age and needs. Children are encouraged to be independent with their self-help skills e.g., doing up their coat, pouring their milk and washing their hands.
Literacy (Reading and Writing)
Reading
A wide range of stories, rhymes, songs and poems are used to engage children with language and print. Rhyme, rhythm and joining in with repeated refrains are key focuses and the children learn how to handle books carefully and use them to find information. We enjoy listening to the children retell a familiar story in their own words. Within the Nursery year, or when children are ready, the children move onto hearing, saying and recognising letters and using them in words.
Writing
Children are encouraged to make meaningful marks and to talk about what their mark-making means to them; they are also encouraged to talk about writing they observe in their environment and identify its purpose. Towards the end of the Nursery year, or when children are ready, the children move onto using some clearly identifiable letters to communicate meaning, representing some sounds correctly in their independent writing. E.g. writing letters of their name
Little Big Write and Big Talk techniques are used to encourage children to talk in full sentences, increase their vocabulary and sentence structure knowledge and link talking with mark-making through gross motor activities like drawing and labelling objects on long rolls of paper on the floor.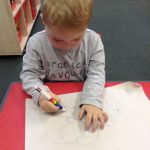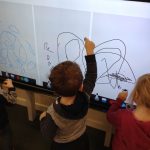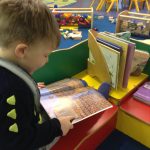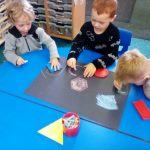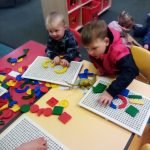 Mathematics
Children have opportunities to explore maths through Continuous Provision and through Adult Led activities. Following the guidance of Development matters children will learn the foundation of number. The emphasis is on children being able to say the number names, making comparisons between quantities, counting objects accurately, beginning to match numerals to groups of objects and showing an interest in recording numbers. Children are encouraged to explore shapes and use positional language as they play. A lot of learning is achieved through construction activities where the children are encouraged to talk about what shapes they have used and the reasons for their choices. We love playing 'woolly worms' in the woods and finding out which is the longest and measuring each other with brick towers or spotting familiar numbers around the setting.
Understanding the World
Our topics and adult led sessions enable us to focus on aspects of Understanding the World. The children then can continue their explorations during Continuous Provision by utilising the wide range of resources we have to support each topic covered. We endeavour to use our local school environment, town and visitors into setting as much as possible to enhance the learning opportunities and to give them a real purpose and context.
For example, using the Outdoor Learning Area on the school field, visits to building sites, going to the town library and having the gardeners in to talk to the children.
We must not forget our social farm where the children will learn about the world around them, caring for animals, developing skills and self-confidence, sharing experiences and learning about produce.
Expressive Arts and Design
During every session, there is a wide range of opportunities for children to engage in activities to explore and use a range of different materials and increase their imagination. The resources available during child-initiated sessions allow the children to explore musical instruments and singing, colours, textures, construction, imaginative role-play, small world activities and facilitate the use of a varied and rich vocabulary around them.
The Nursery always has at least two role-play areas, a home-corner is a constant part of the provision, enabling the children to re-enact familiar experiences, and another role-play area which is topic linked enabling the use of taught roles and activities.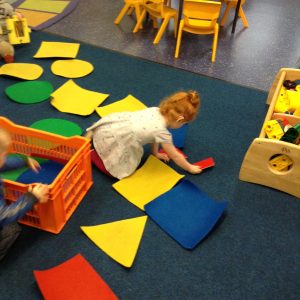 Our themes are wide reaching and loose to follow the children's interests as they arise. We use a wide range of stories and non-fiction books to support the themes. Additions are made and themes changed accordingly. We have a 2-year rolling plan as our children may be with us for up to 3 years in total.
Our provision is based on the guidance material produced by the Department for Education to support practitioners in implementing the Early Years Foundation Stage. The Early Years Foundation Stage covers a child from birth to the end of their reception year. For more information on the Early Years Foundation stage and details of the progression in the Development Matters Statements please visit the following website:  http://www.foundationyears.org.uk/early-years-foundation-stage-2021
Nursery Class summer term curriculum letter 2022
Interested in joining our Nursery?
If you would like to arrange a tour or just nee dmore information, please contact 01630 652312.
Children are welcome to attend on a part-time or full-time basis (2-4 year olds)
3 hour morning sessions 9am-12pm
3 hour afternoon session 12pm-3pm
15 hours across 2.5 days
Monday and Tuesday 9am-3pm then Wednesday 9am-12pm or
Wednesday 12pm-3pm then Thursday and Friday 9am-3pm
30 hours across 5 days 9am-3pm
15 hour and 30 hours per week available for 3-4 year olds and eligible 2 year olds via the 24U funding
To find out if you qualify for 30 hours or 15 hour free childcare, please visit  www.childcarechoices.gov.uk
Join our Stay and Play Sessions